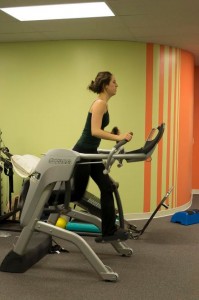 Improving fitness and flexibility can be an important part of rehabilitation and may help prevent future injuries. We offer several programs in this area – talk with our office staff for more information.
Our Maintenance Program allows you to continue using our equipment after completing therapy. This self-directed program is open during normal office hours.
Mat Pilates offers a total body approach which uses exercises in posture, strength, balance and flexibility. Mat Pilates can be combined with other traditional therapies. Once you learn the basics from Barb Holland, you can continue at home.
One to One Yoga with Sue DiOrio gives you a take-home program designed just for you.
The Flexi Belt makes stretching and flexibility easier.